Stephen Groh, circus entertainer, trains bodies and minds, giving youngsters confidence; then he puts them on stage.



A locally-based volunteer, Stephen Groh, is an experienced circus performer who runs a programme for street kids and the boys and girls living at Mercy House.

"I train them in circus arts , gymnastics, tumbling, unicycling, acrobatics, clowning. We do shows around the city."

In fact they did a show recently for Jackie Chan who took off his jacket and did a few back flips with them. Then he helped them with a three-tier pyramid. One of the kids from the group even had a bit part in the movie being shot here.

Stephen explains the purpose of his programme: "Circus is a tool, not a goal. I do what I do to give the kids a positive self-image, to engage the mind and body in the learning process. They assess their own achievement, they police themselves and they are part of a group, which is also important. And they have a lot of fun and that's really a celebration of life."

Stephen also chooses kids who do well in his programme, and in school, and at Mercy Centre and forms teams. He then enters them in adventure races in mountain biking, running, swimming, jungle-trekking, sometimes competing against professionals. And they do well.

"Isn't that cool?" chimes in Father Joe. "Our kids have been in public. They've got a lot of social skills."

The Post Publishing Public Co., Ltd .

We did a Poi routine, gymnastics routine, and a human pyramid. Jackie Chan took off his jacket and even did some acrobatics with us. I even gave him a set of Poi. He then gave a donation to the circus program. He was a very nice guy and the kids had a blast!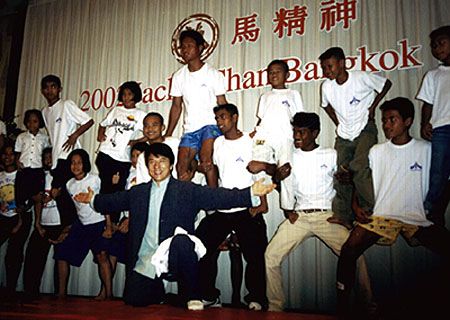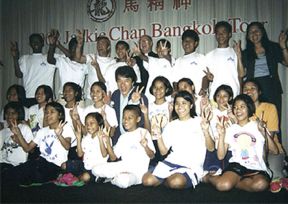 Last modified on 8 Apr, 2020
---