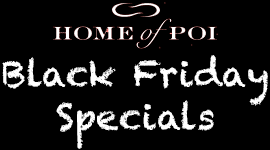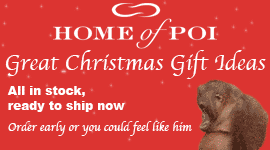 Internationally renowned manufacturer and supplier of...PoiAll LED PoiAll Fire Poi SetsAll Fire FansAcrylic, Contact Juggling BallsKEVLAR® Wick - FlatHula HoopsStaff / PolesAll Juggling BallsJuggling ClubsDiaboloDevil SticksPerformanceand Fire performance arts equipment.
Catering for true beginners to leading professionals.
Secure shopping with instant shipping quotes.
Pay by Credit Card, Debit Card, Paypal, Money Order, Western Union.
5 stars for service. Previous customers provide 24450 product and 4105 company testimonials to help you decide.
Money Back Guarantee on the price of the goods, if not 100% satisfied.
---
Subscribe to our mailing list
Get discounts, exclusive offers and keep up to date with our community competitions.
(33,519 Subscribers)
Bend the Rules - Photo CompetitionStatus:
Voting, late entries still accepted, Voting until 25 November 2018. We have 27 entries.
How to vote:
View entries and vote here
A huge resource of information. Founded upon the communities passion for these arts and the friendship of fellow artists.
Discuss industry news, new ideas, get answers to your questions.
Meet other lovely poi and fire spinners in your area.