Where to put the swivels?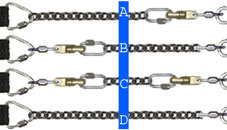 A. Some prefer swivels at the "ball" end so you can shorten your chains by wrapping the chains around your hands. Therefore making it possible to have longer chains and still be able to do Buzzsaws' and other moves where the Poi pass in front of the chest.

B. Some prefer the swivels at the handle end so there is still a swiveling action when doing moves like Air wraps and Hyperloops

C. Finally others splash out the extra cost and add a swivel at both ends of each chain.

D. Some believe swivels are of no real advantage when using link chain and do not install them.

Other Reasons to use a swivel

If using link chain or string cords without swivels and the Poi head glances the side of your body, making it rotate, then it will twist. When ever these cords rotate they will kink and shorten their overall length. Then needing to untwist making it harder to control the flight of the Poi.

Reason not to use swivels
If you're using Ball Chain then swivels are not needed. They will never kink or twist up and are always easy to untangle if both Poi tangle around each other.
Tips/Hints
If you use a swivel close to a fire head then make sure it is a heavy duty swivel and does not use spring or wire clips (or split rings) as the heating and cooling will weaken the metal over time causing it to suddenly break or stretch open.
Last modified on 8 Apr, 2020
---