---
Flowtoys are honored to present the next level in the evolution of poi - podpoi. Years of engineering and development, consciously designed in every aspect, podpoi feature many modes and functions ranging from awesome poi trails to scientific strobing to gorgeous mood lighting. Each mode is adjustable either in color, speed, brightness or pattern. Micro-USB charge-port, all-night runtime and a variety of charging options make it a breeze to keep your poi running during festivals and travel. Made of silicone - the most non-toxic and environmentally-friendly plastic available - podpoi are super-cushy on impact and virtually indestructible. Podpoi - an evolution of our commitment to spreading the beauty and joy of movement and light.
Features:


full color
many modes
infinitely adjustable
bright
lasts all night
usb rechargeable
non-toxic
conscious design
super durable
lifetime warranty



---
FAQs

> Ordering and Shipping
> Materials, Specs and Assembly
> Modes/Light Features
> Power
> Design
> Warranty and Upgrades
> Download the Podpoi Guide




ORDERING AND SHIPPING

Do they come with handles and leashes? Chargers?
Podpoi come with adjustable flowleashes. You also have the option of adding PomGrip knob handles and flowlight handles. Podpoi come with the option of a free pair of usb cables. You can also get more cables, usb wall adaptors, a usb car charging adaptor and/or a portable power pack.

MATERIALS, SPECS AND ASSEMBLY

How much does it weigh/how big is it?
The complete podpoi head weighs 128g, and it is designed with most of the weight towards the end, so it spins like a much heavier poi head, but with less energy required. It is 118mm long and 66mm in diameter (4.6 x 2.6 inches).

What is it made of?
The pod shell is made of pure silicone rubber- the most environmentally-friendly and non-toxic plastic available. Silicone is also very easy to clean, and does not discolor or absorb dirt. If your pod shells are dirty for whatever reason, you can remove the light unit and put the shell in the dishwasher.

The hard plastic parts are made of polycarbonate - the most durable hard plastic available.

Does it hurt when I hit myself?
Well a pillow could hurt you, but these are possibly the most cushy glow poi ever! The silicone is kinda magical, a really hard hit to the head or face might make you wince, but you're not gonna feel it later. It's so nice to have poi that don't hurt - they free you up to learn new moves and find new ways to express yourself.

Is it durable?
They are virtually indestructible! We tried to break them. A roomful of excited poi spinners tried. After repeatedly smashing them against the ground and against a table as hard as they could, the parts came apart on the hardest hits, eventually some parts stopped working, but the light kept going.

How do I adjust, assemble and disassemble it?
Adjusting your leash is the first step towards optimizing your podpoi experience. Check out this video, where Sean show you how to adjust your leash, assemble and disassemble your podpoi. Or download the Podpoi Guide.




MODES/LIGHT FEATURES

How many modes are there?
There are 10 adjustable modes and 3 modes with preset patterns. The 10 basic modes are adjustable and allow you to create an infinite number of unique patterns and color combinations.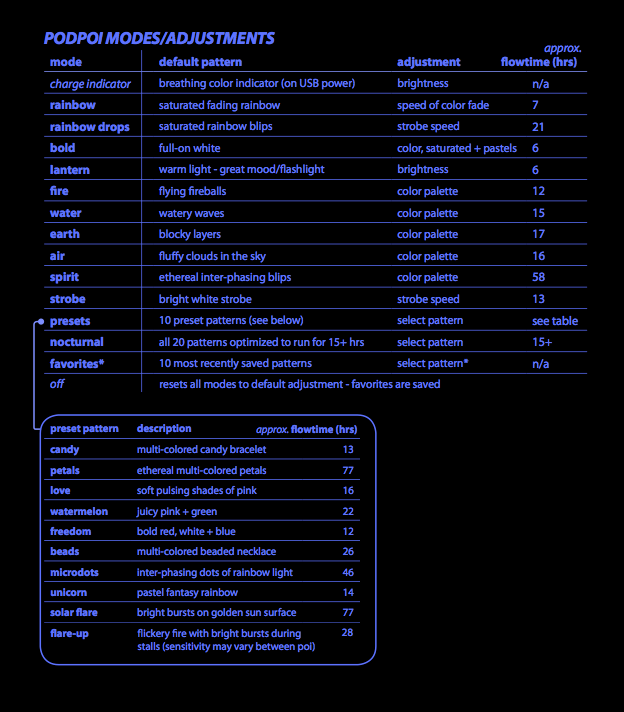 Can I adjust the modes?
Yes, each mode has one aspect that can be adjusted. Depending on the mode, the color/color palette OR the speed OR the brightness can be adjusted. There is also a presets mode where you can select from 10 preset patterns; a nocturnal mode where you can access all the base patterns, all set to run for over 15 hours; and a favorites mode where you can find your 10 most recently saved modes/adjustments.

How bright are they?
They are very bright, sometimes too bright! But not so bright that you wouldn't want to spin with them, or blind your friends. There are 4 super-bright RGB LEDs, that's 12 LEDs total being driven to their max. The pod is designed for optimum light dispersion.

POWER

How long does it last?
Most modes last 6 hours or more! Nocturnal mode has all the main modes set to run for a minimum of 15 hours. In our tests, some modes lasted over 24 hours. And they appeared plenty bright.

How can I tell how much charge is left?
There is an easy-to-use charge indicator! When off, press and hold the button. The light will blink a color indicating your charge level - ranging from red to green - and fade out.
Red = really low, less than 10% left
Orange = okay, about 50% left
Yellow = should last a while, 50-90%
Green = good to go! 90% or more
Note Colors are approximate. Runtimes vary greatly with different modes.
How do I charge it?
Podpoi are micro-USB rechargeable. You can plug them into any USB power source with a micro-USB cable. We provide cables, but you also use any standard micro-USB cable. Common USB sources include:

computers and laptops with built-in USB jacks
wall-power USB adaptors
car-power USB adaptors
portable USB power packs
solar USB chargers
cell phone/mobile device charging stations commonly found in airports, malls and events


How long does it hold its charge?


Well over a year!

Is the battery replaceable?
Yes, the battery will probably last you many years, but if you ever need to replace it you can do so with basic soldering skills, or by sending in to us to be replaced for a small service fee. The internal battery is soldered in place to ensure a reliable and impact-proof electrical connection.

DESIGN

How did you come up with the flower concept? Why did you bother making it so beautiful?
To us the perfect universal poi head was streamline and tear-drop shaped, where all the weight was towards the end of the poi head. It had to be durable with no exposed electronics, yet be cushy-on-impact and not hurt, so people were invited to learn to spin and motivated to practice. It had to have an intuitive user interface, be easily rechargeable, and of course be beautiful on or off, inside and out.

The podpoi's organic design evolved out of an engineering challenge. After exploring all the mechanical solutions to our various requirements, we found the design had evolved into something much like a seed pod. Tapping into nature's wisdom for the final details, we found that we were essentially creating a fruit to contain the seed of light to propagate the artform that we love. We needed a vessel to carry and protect this seed, it had to have a way of opening, protecting its cargo, attracting its propagator and delivering its message.

The design didn't come out of us trying to make it imitate a plant. Every attribute pretty much came out of solving some structural challenge, and resulted in the same sort of solutions that plants have evolved overtime. It's like the fundamental fractal flow nature of the universe expressing itself in poi.

When you spin podpoi, you're not just a poi spinner. You carry the seed of the beauty and joy of movement and light.

Are these the new oggpoi?
We loved oggpoi and they served us and the spinning community well when they lasted, though there is really no comparison. We had planned to make poi like the podpoi before we discovered Oggz. Oggpoi were a stop-gap, albeit a sweet one. We didn't quite have the resources to pull it off then, and focused on the flowlight to begin with. We're glad to have been able to provide oggpoi, as they were a great rechargeable RGB poi option for years. We have Lester of Firegroove to thank for them, as he introduced us to Oggz and said we should make them into poi.

Oggpoi were made from Oggz - a mood light that another company made. We took them out of their packaging, let them off-gas (phew - vinyl!), removed the light unit, drilled the shells, inserted hardware, cemented the light unit back in, and voila - oggpoi! Several other prop companies made them as well. While they provided us and many others around the world with joy and awesomeness, their durability, futzy charging bases and vinyl shell were less than desirable. And then the company that made the oggz started making them less durable, and finally they made them rock-hard and practically impossible to open. We and other prop makers stopped converting them into poi, and we resurrected our plans for podpoi. Honestly the modular system kinda kicked our butts (!) and we had a baby, so it took longer than we expected. We're kinda glad it took so long though, as technology got a whole lot better!



WARRANTY AND UPGRADE

Our podpoi replacement policy:

If any non-electronic part fails, we will replace it for free.
If the light capsule is defective/not working and not physically damaged (cracks or split shell or water damage), we will replace it for free.
If the light capsule is defective and physically damaged (cracked, split, water damage), we will replace it for $17.50/capsule + shipping and handling