Hamish Ross Crichton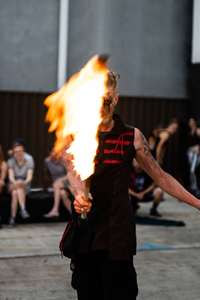 Member
GOLD Member since May 2014
Registered on: 21st May 2014
Last active: 10th Jul 2020
Occupation
Flow artist. Dj, events. Support.
Location
New Zealand
Hobbies
Staff, Poi, Dragon, Double staff,Juggling, Acro and Mixing solid tunes to spin too
About
Hi I am Hamish.
A flow artist based in Dunedin.
I am Vice President of the Dunedin Fire and Circus Club.
I have been spinning for about 5 years now and my life has forever transformed for the better.
Part of the Ninja Training, high school program.
Signature
You can never have too much Bass&Fire! -Thanks HoP for the quality parts and props-
Home page
https://www.facebook.com/hamish.r.crichton