Mele
SILVER Member since Oct 2003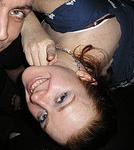 A perth girl gone walkabout...
Location:
Back home in Perth WA, Austral...
Total posts: 396
Posted:

Full Moon Fire has been moved this month - The Leighton crew are meeting up with drummers instead!



The drumming guys just moments ago confirmed that they'll be at
Swanbourne beach this Saturday evening, so we'll be meeting up with them
for our usual Full Moon Fire. Check it out:

Full Moon Fire + African Drumming = awesome grooviness!

Just remember: Swanbourne, not Leighton!

Details:

WHAT: Full Moon Fire & Drums
WHEN: 7pm onwards, Sat 6th March (this Sat!)
WHERE: Swanbourne Beach (*not* Leighton)
WHO: Anyone who's into, or wants to learn, drumming or twirling

See you all there!







I smile because i have no idea whats going on!!

Delete Topic