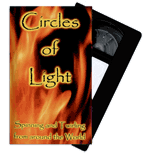 Sorry this VHS video is no longer available for sale. We may release in future on DVD as a collectors item.


This is a compilation video featuring artists from USA, United Kingdom, Canada, Australia, New Zealand, Germany and South Africa
What will you see on the video?
Heaps of 5 beat weaves, Behind the back moves, cart wheels, forward rolls and jump overs whilst doing poi, leg, arm and neck wraps and isolations, staff, double staff, staff and poi together, photons, Fire Poi, glow sticks, tailed poi, flags, Beaming poi, comet poi, fire whips, meteors, live performances, fire eating, fire breathing, glow staff, lots of different styles, transitions and equipment.....

eBook all about Circles Of Light history etc (pdf - requires Adobe Acrobat Reader)
Who appears on the video?
Hayobola - length 5:40s
url: http://www.geocities.com/hayobola/
email: hayobola@yahoo.com
location: BC, Canada.
Robert Michael - length 4:02s
url: http://digital.sekrets.org
email: RobertM@walkers.co.nz
location: Auckland, New Zealand
Sean Gibson - length 1:26s
email: seg81@hotmail.com
location: Cape Town, South Africa.
Rachel Stockley - length 1:54s
email: stockylocky@hotmail.com
location: Farnham, Surrey, England
Jo Derry - length 3:02s
email: JoDerry@another.com
location: UK
phone: 44 (0)7931 683 659
Xaeda - length 1:12s
email: jacinta@graffiti.net
location: Dunedin, New Zealand
Hanna Farrar - length 3:32s
email: farrars@rof.net or digger@rof.net
location:Carbondale, CO, USA
Farrah Siegel - length 3:32s
email: jogs@earthlink.net
location: Sherman Oaks, CA, USA
Ryan Weh - length 4:12s
url: http://www.surrealistic.org/ryan/
email: urthskape@flashmail.com
location: Woodinville, Washington, USA.
Christie Fremon - length 1:51s
email: twilight@darkmail.com
location: Palo Alto, CA, USA
filmed by: Rae Deslich
email: r_deslich@hotmail.com
Anya Hubschle - length 2:13s
email: anyahubschle@gmx.de
location: Berlin, Germany
Dimension 7 - length 2:25s
url: www.dimension7.com
email: grant@dimension7.com
location: San Francisco, CA, USA.
phone: 415.348.0761
Fred Yates - length 4:00s
email: yatesf@db.erau.edu
location: Colorado Springs, CO, USA
cellphone: (719)-761-3145
The Baltimore Calefaction Society - length 2:42s
url: www.calefaction.org/
email: k@thleen.org
location: Baltimore, USA
Warren Hammond and Bob Thomson - length 1:47s
http://lutkus.org/juggle/
Warren Hammond
email: virusss@juno.com
location: Rochester, NY, USA
Bob Thomson
email: tacitzero@hotmail.com
location: Rochester, NY, USA
"Hephaestos" - Bryan Gallagher - length 4:26s
email: bryan_gallagher@hotmail.com
location: Chicago, IL, USA
Insane Monkey Girl - length 4:05s
email: sardonic69@hotmail.com
location: Portland, OR, USA
Dangerboy - length 0:59s
email: mcmorganism@yahoo.com
location: Victoria, Canada
John Smith and Daniel Tyler - length 1:05
John Smith
url: http://www.flamingsphere.homestead.com
email: jonnyfive77@hotmail.com
location: OK, USA
phone: (405) 880 5567
Daniel Tyler
email: santanatwo@yahoo.com
location:Stillwater, OK, USA
phone: (405) 742 8843
Flashfire, Katinca and Josh - length 1:30s
Flashfire -
url: http://www.wickeffect.cjb.net
email: sair_steve@yahoo.com
location: Sydney, Australia
Katinca -
email: spidersondrugs@hotmail.com
location: Adelaide, Australia
Josh -
email: automated_dreaming@hotmail.com
location: Adelaide, Australia