Seraphire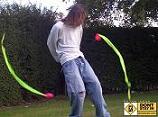 HoP's Original Smelly-Hippie-Scum-Bag
Location: Under your stairs
Total posts: 270
Posted:
I'm not sure where to put this post but I figured here will do. If you want to move it to Events, Performances & Gatherings, s'all good.



Basic Info.



DSEi stands for "Defence Systems and Equipment international"



It is the worlds largest weapons fair. and an exhibition is being held at The ExCeL Centre, London Docklands from September 10th-16th.



There will be many countries present including several G8 members.



This arms exhibition is symbolism to the continual wars in todays world. A pedaling of arms to make profit from death is inhumane and wrong.



I'm not suggesting that anyone here head to arms about it, but support. There will be people taking direct action with lock-ons and such. This is just an idea. If your free to make it to the area on any of the days, come along, dance, spin, keep moral up and support everyone there.



For more information go to www.dsei.org



Many thanks



Sera.



Please, any thoughts about this topic, contribute.
Music gives Soul to the Universe, Wings to the Mind, Flight to the Imagination and Life to Everything.

Educate yourself in the Hazards of Fire Breathing STAY SAFE!



dsei.org Stop The Arms Trade!
Delete Topic