Learn the Art of Poi and Spinning, Beginner sets including
Poi Spinning
,
Diabolo
, and
Hooping
, all coming with free online lessons and some kits even have a DVD to help you on your way.
Circus equipment
We have been Circus Equipment Suppliers for over 20 years. This page is dedicated to beginner Circus Toys as a starting point to learn.
Low investment
Juggling Equipment
that is very hard-wearing so able to take a lot of abuse and drops.
We also carry many professional and unique props once you are ready to take the next step.
If you're starting out
Juggling
, we have a perfect set for you and even
Juggling
books to help. Don't forget we have over 268 free online lessons available to you anytime to help also.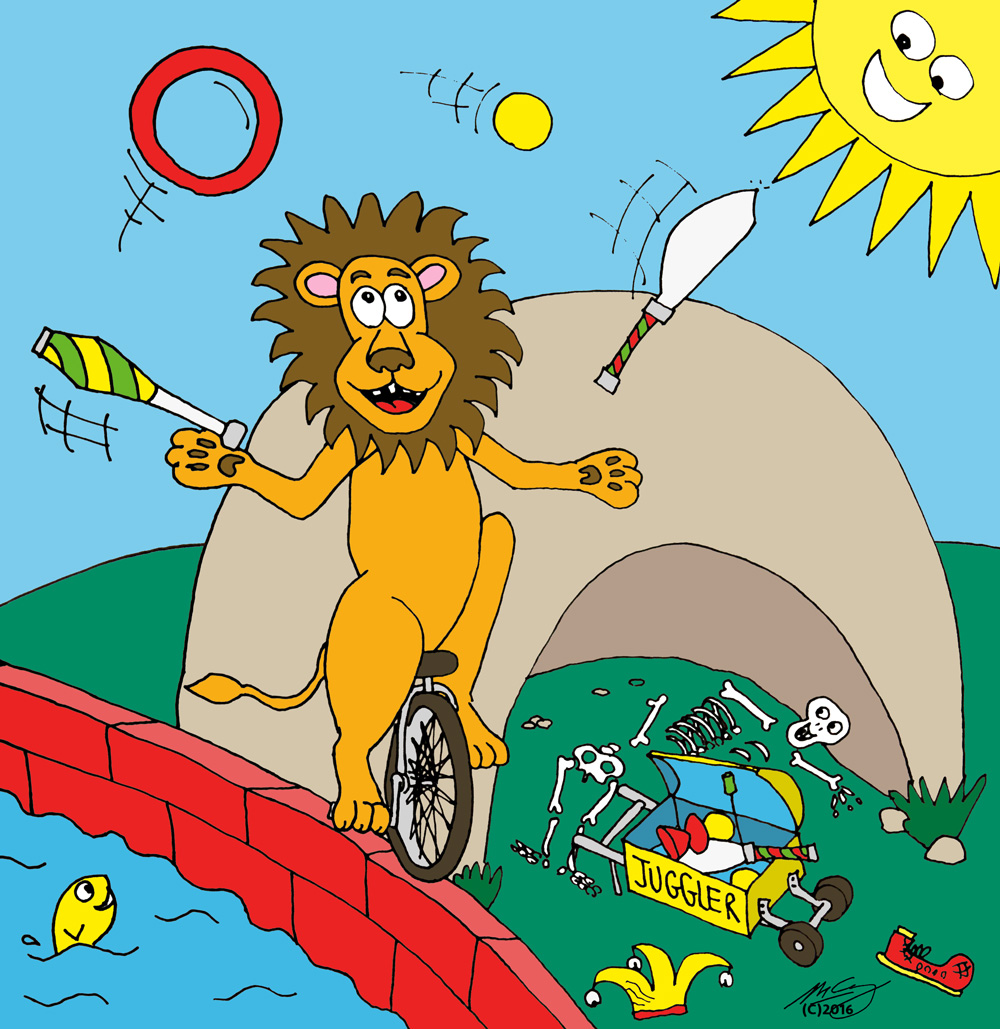 Picture: 'You are what you Eat'
Best Juggling Balls for beginners
A few tips for learning, use soft fabric or sandbag
Juggling Balls
as this helps for when you drop them they will not roll away or even get a bouncy set so you can work on your catching skills if one hits the floor. The sandbag
Juggling Balls
also work great for advancing into more difficult multi-ball tricks.
In addition to being fun and entertaining, learning to
Juggle
is healthy for the mind and body. The challenge of
Juggling
improves eye-hand coordination, motor skills, and physical fitness for both children and adults.
Best Juggling Clubs to start with
If you are not sure if you're going to advance into club jugging and are just deciding if it is your 'thing,' then these
Beginner Juggling Clubs
are at a budget price ideal to try them out without investing a lot of money. They are a very robust single-piece design that is ideal for schools and kids who can on occasion be a bit rough.
Juggling Rings
If you love
Juggling Balls
and looking for a more visual prop then manipulating rings are for you. Each time you
Juggle
you spin the ring, however unlike
Juggling Clubs
with handles you do not have to be accurate with the amount of rotation, making them easier to catch. You can also isolate one ring to do fancy tricks, like capturing through the middle of the ring and rotating. They can even get bounced off the ground and caught on your foot!
Beginner Diabolos / Diablo
If you are starting with
Diabolo
, the larger sizes such as the Hurricane and Typhoon diablos are recommended and make learning much more manageable. For learning newer more advanced tricks like grinds, the Superglass handsticks are perfect. Secure, reliable handsticks with smaller ends make grinds and advanced tricks even more effortless.
Spin for hours with a bearing
Diabolo
, we have the hurricane, and the Quartz Diabolo's available both with triple bearing axels in them meaning once up to speed these will spin for much longer than fixed axle
Diabolos
.
LED lights kits to fit onto the Hurricane, Typhoon, Quartz 2 and V2 Luna Spin
Diabolos
. Batteries are available to keep them running, all that is needed are three LR44 batteries and a small screwdriver to replace the batteries.
We have many learning tools available, including books and access to over 150 free online lessons when you purchase from our site.
Don't worry if you get addicted to
Diabolo
spinning, we have many types of string available to help keep you spinning, and it's right for you.
Diabolo
string will wear out, and this is the nature of the product due to the number of frictions created when spinning them, have a bearing
Diabolo
will help reduce this friction.
It is relatively difficult to know with precision when the
Diabolo
got invented. Historians, however, agree that in China, where it was discovered, the game of
Diabolo
has been practiced for more than 4000 years. In China today, like the first ones,
Diabolos
are still made in bamboo, with openings on the side making it whistle while spinning. French and English missionaries brought these strange objects back to Europe, named by an unknown erudite "Diaballo" (later
Diabolo
). In 1906, a French inventor Gustave Pillipart presented a
Diabolo
made of two metal cup, with the edges protected by rubber. The modern
Diabolo
is defined!
Spinning a
Diabolo
helps with:
co-ordination
Relaxing the mind
concentration
patience
timing
tracking skills
fine motor skills
As well as the social and creative elements of diaboling with your friends.