Free Spirit Fire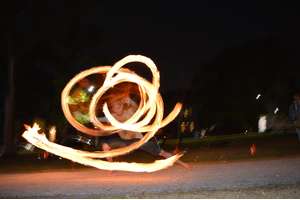 Member
BRONZE Member since Apr 2015
Registered on: 25th Apr 2015
Last active: 15th Jun 2020
Occupation
Dog Trainer and Fire Performer
Location
Canada
Hobbies
Rope dart, Whip, Staff, Poi, Fan Dancing, Levistick, Diabolo, Juggling
About
Hi, My name is Mateo and im an aspiring fire performer, my favorite prop is the rope dart. I also spin staff and have begun to use a fire whip. I love where fire and prop manipulation has taken me im so excited for the future ahead and want to learn more props
like hoop, nun chucks ,and poi. I want to help keep the fire alive and make people smile and maybe even spark a flame in them with my performance.
Signature
Stay safe my friends!