Yes, Led Poi for all. We are very proud of the extensive range of available
Led Poi Balls
sets we stock. And are always looking out for new designs that we can test and if suitable, add to the Home of Poi collection of
Visual Poi
For Sale.
Do I get a product Warranty?
Our selection of Led Poi is guaranteed to satisfy, or you can get your money back. We also offer the Home of Poi 12 month warranty on all our Led Poi ensuring a hassle-free process should something go wrong. We do not cover abuse or accidents; however, we stock a massive range of parts to repair if run over, chewed by a dog, broken, or missing/lost. Look out for the [purchase parts] button on the product pages. Have fun, turn them on, and light up the night!



Glowstick Poi vs LED Poi sticks
The 6-inch length glowsticks were a great introduction to Glow Stick Poi. They were dependable, and you could extend their life by putting them in the fridge/freezer. Or make them extra bright by heating the glowstick by dipping it in hot water.Light Poi has advanced with better LED, and Full Color LED's. You could then Buy Led Poi that changed color and could be switched on and off with ease. Glow In The Dark Poi rose to a new level with added control chips providing functions of strobe, fade, and patterns.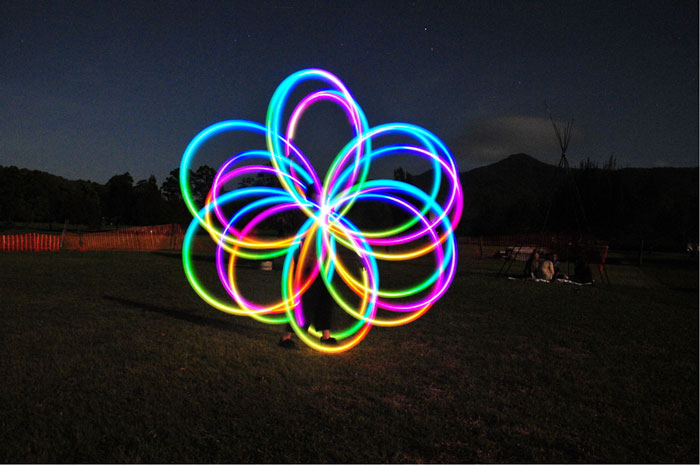 Flow Lights, ePoi, Pro-Series LED Poi, DIY LED Poi, What are Li-ion, Lithium-Ion Cells?
Some of our LED
Glow Poi
contain rechargeable batteries or cells which get labeled as Lithium-Ion. These are very compact power sources and can store plenty of juice for your Poi Flow Toys. They also power your phones, laptops, tablets, and many other handy items.
Lithium-Ion (Li-on) cells that power your Poi Led Lights have now replaced other types of rechargeable cells like NiMh and Alkaline. They can pack more power and provide a more constant voltage to control the LEDs in your Poi Pods, balls, and tubes. They are no more fading into the dark as the battery goes flat.
Problems with Lithium-Ion cells is that we can not fully charge the Poi at the factory. Alas, when you receive your flow toys, they will only work for a small duration. So they do need to be fully charged once you receive them. Otherwise, your
Podpoi
could never work again.
So the problem with Lithium-Ion cells is that if stored with no charge (i.e., flat) they can get to a point where they will not be able to charge again. It sounds weird, but it has happened to many LED products. So if you're not going to play with your favorite Led Poi over the winter, make sure to charge them up before storing them somewhere safe.
Shipping Lithium-Ion (Li-on) cells by air from our LED Poi Shop
Because lithium burns extremely hot and can melt an airplane aluminum. International shipping restrictions are limiting the size of and quantity of cells contained within an air parcel. Too many or too big and they have to be transported as dangerous goods in a special flameproof box at a huge expense. We are limited to 4 cells per package. The shopping cart will let you know if your selections exceed this limit. When this happens, you have to make another separate order to purchase more products with Li-on cells.
LED Poi instructions
We are committed to reducing the amount of paper we use, so all our instructions and guides on how to use your Led Flow Toys are now available on their respective product pages. We also email these to you after purchase, and they can be viewed under the title 'Resources' when you log into your account.
Why are new LED Poi not fully charged?
All Lithium-Ion cells are only partly charged to pass carriage regulations. SO the first time you use them, your Poi may not light up for as long as you hoped. Rest assured that when you fully charge them, they will last the stated times. Ni-Cad cells are also only partly charged.
Eye safety around LEDs and poi spinning
The output power of LEDs has increased incredibly over the past ten years. We love bright LED Poi; however, you should not remove the LED unit and stare at the raw LED source as with all powerful lights this can hurt and in some cases, damage your eyes. It is the same as holding a light torch close to and pointing into your eye.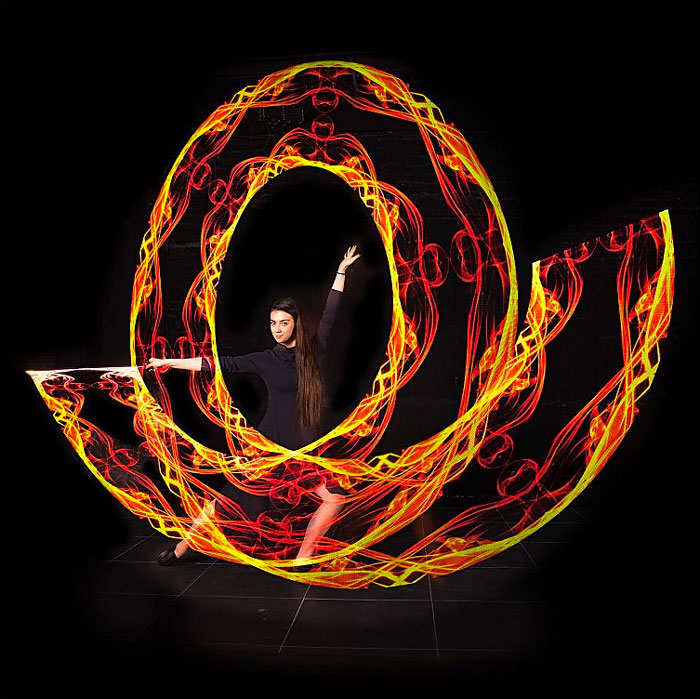 The Poi Balls LED trail effect
You will see a lot of pictures with circular light trails behind the Led Poi ball, just like a comet tail or Led Orbit when you spin Poi. For a camera to get a good nighttime photo, it will use a highly sensitive light setting or a long exposure light setting. The longer the camera exposure, the longer any light trail will be. Some people spend a lot of time trying to get the right camera settings and exposure time to create the perfect Led Poi picture. The human eye also has a natural light exposure setting with the iris. The darker your spinning area becomes the larger the hole in your eye gets, letting in more light, and then you will begin to see that trail effect. The faster you spin your Poi, the longer the trail will appear. However, unlike a camera, your eye has a limitation on how long the LED trail will be.
Rave lights, LED Lights Rave
LED Poi is a class of Rave Lights or Orbit Lights. Also available at Rave Light Websites. However Home of Poi provides the best of Led Lights Rave ready. We also stock many other Led Toys / Light Toys to create a fantastic Orbit Light Show.
Why LED Poi is so attractive?
Looking at people spinning Poi is delightful and filled with wonder. With beautiful trails of color swirling around and dancing with the person within.

Now imagine what it is like dancing to your favorite music where the flow of the Poi Lights is a colorful extension of the beautiful person you are and will be.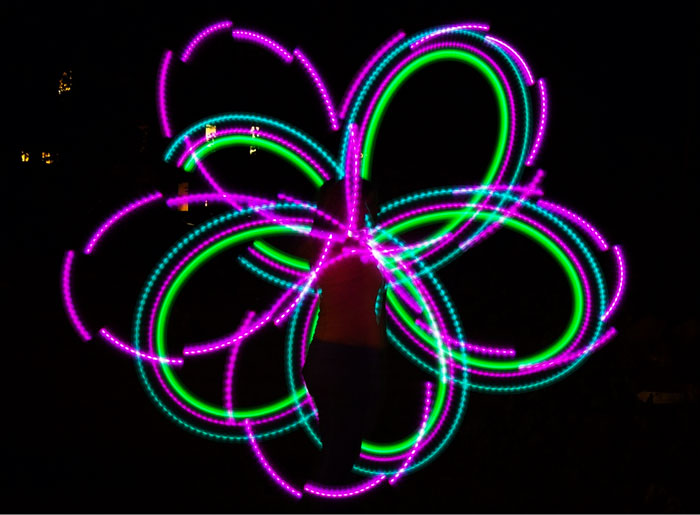 Why should I buy LED Poi?
The benefits to be obtained from Led Poi include
Improved coordination, balance, dexterity, and body awareness,
Improved focus, alertness, perception, patience, persistence,
Improved brain function, creativity,
Fun cardiovascular exercise,
Greater self image, self esteem, confidence,
and a great way of meeting new people, develop new friends and relationships
And to be a part of helping people to achieve those benefits is our greatest achievement and drives our vision:
Our Poi Vision
'To help everyone discover and shine in the performance arts.'
And that includes YOU!
We even have a
Poi Store
you can visit!