13th June, 2019

Purchase Single Multi-Function Glow Poi

Good starter poi with very short battery life

"

This is my first set of LED poi. They are nice and bright as well as nicely weighted. They are also soft enough to not hurt much when you smack yourself. The silicone casing ball has been quite durable over the last month as well. The only real downside is short battery life. The rechargeable batteries last about 30 minutes. It may be worth upgrading to a slightly more expensive LED poi ball and not worrying as much about battery life. The issue is fairly easy to fix, though, and I did so by replacing the stock battery with a 3.7V, 180mAh unit. This was the largest capacity battery I could solder in that would still fit into the plastic light casing and led to a battery life of a bit over 1.5 hours.

"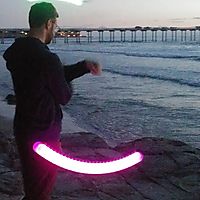 Alex_funk
, USA. [Verified Buyer]
SILVER Member since Apr 2019
---