ElectricBlue
GOLD Member since Feb 2002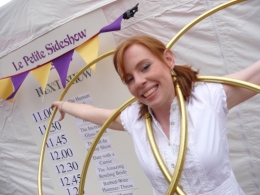 Now with extra strawberries
Location: Canberra, Australia
Total posts: 810
Posted:
Are you poi the soft peachy plastic ball kind? the ones that look like frosted glass but are smooth to touch?

I have had good succsess cleaning these type of poi with orange oil cleaner and an old tooth brush. You can also use 'Spray $ Wipe' or some other kind of surface spray but orange oil works the best.

Just make sure that after you clean the affected area you wipe of any residue with a damp towel. Also make sure you don't get any water or cleaner any where near the battery casing area.
I {Heart} hand me downs and spinning in the snow.<br /><br />
Delete