Seraphire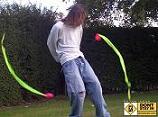 HoP's Original Smelly-Hippie-Scum-Bag
Location: Under your stairs
Total posts: 270
Posted:
Thats quite good, made me laugh. But I know the most momentus waste of time...depends if I can find it.

Oh yes! http://www.i-am-bored.com/bored_link.cfm?link_id=2623

Music gives Soul to the Universe, Wings to the Mind, Flight to the Imagination and Life to Everything.

Educate yourself in the Hazards of Fire Breathing STAY SAFE!



dsei.org Stop The Arms Trade!
Delete