Seraphire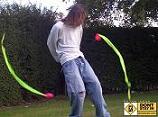 HoP's Original Smelly-Hippie-Scum-Bag
Location: Under your stairs
Total posts: 270
Posted:
My dad (52) wrangled my poi out of my hands when he was quite drunk. He ran around like a loone then did what any male who starts poi does within the first 20 minutes. He's declined another go since. But on a good note he got split-time really easily.
Music gives Soul to the Universe, Wings to the Mind, Flight to the Imagination and Life to Everything.

Educate yourself in the Hazards of Fire Breathing STAY SAFE!



dsei.org Stop The Arms Trade!
Delete