Mistress Aurora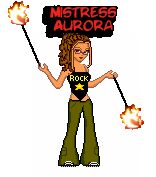 Hot Schtuff
Location: Stillwater,OK/Wichita Falls,TX
Total posts: 1032
Posted:
Just beware of the gators!


Never been East of TX or OK...May one of these days go visit a friend in GA and my bro when he is stationed in FL.

Spin down by the Gulf of Mexico...That would be kewl


RISK: Do not follow the common path; Go where there is no path and leave a trail.


Delete