Mistress Aurora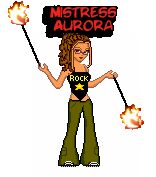 Hot Schtuff
Location: Stillwater,OK/Wichita Falls,TX
Total posts: 1032
Posted:
First off go Ray!!!I'm also sick of hearing of Hollywood celebrities getting on a band wagon to Hippie-Ville.

quote: As an interesting footnote, during his campaign Bush spoke a few times about the fact that he was a "C" student while at Yale and at Harvard.
I suppose his point was that if he could run, anybody could.
As his father was the Director of the CIA at the time, its not impossible that fact had something to do with a courtesy C. Ummm...Yeah! I don't know exactly what you meant by that statement, but if your taking it in the direction of that Bush is not smart even though he got C's in Yale or the direction of he made C's at Yale because his daddy was Director of the CIA...I believe you should re-think that statement.

First off he was accepted to and went to Yale University...It is a hard school to get in anyway.You may be right in the fact that he got in because of his dad, but that is found in most colleges, at least of the Big 12 kind. When you say he made C's in his classes because of his dad being an important figure then I'd have to disagree with you. Making C's is still passing! I go to Oklahoma State University and I have a hard enough time making C's.If Bush could make C's in college kudos to him because of his choice in major.I have a few friends who are history majors. History is boring to me but it does come in handy with discussions on HoP. Bush's Transcript

My major here at OSU is animal science pre-vet.I had to have a couple classes in history to get my H credit thats required of my major.History is hard in the fact you have to memorize facts and dates and important people and what they did.Although at the same time that makes it easy in the fact that is pretty much all you do for history classes besides your usual essays over things.

One thing that I've been told about grades and your GPA in colleges is that when you get out in the real world none of that stuff matters. It doens't matter what you made in what class.As long as you pass and get the degree you want and can do something with it, then that's all that matters.Employers look more at your background and how you are capable of performing the job you are applying for. GPA and grades may get you some opportunities in college, but not in the real world. You can have a person with high grades in college and no previous background in the job, or you can have somebody qualified to do a job because of there previous background and who have a degree.Either way the only thing the employer looks at is whether you have that lil paper that says "So and So recieved this degree" and the backgound that would be beneficial to that particular position.

RISK: Do not follow the common path; Go where there is no path and leave a trail.


Delete