Seraphire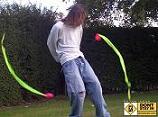 HoP's Original Smelly-Hippie-Scum-Bag
Location: Under your stairs
Total posts: 270
Posted:
Just stick with Kero (Paraffin). And yes the tails which you'll see on pics are just a camera set to High Resolution, to capture more of the image.
Music gives Soul to the Universe, Wings to the Mind, Flight to the Imagination and Life to Everything.

Educate yourself in the Hazards of Fire Breathing STAY SAFE!



dsei.org Stop The Arms Trade!
Delete