The sling, two flexible cords with a little pocket hung in the middle to contain the missile. one core is attached to the hand and the other cord held by the thumb which is used to time the release of the missile. The longer the cords the further the throw. See also The sling.
The mace is another one of man's oldest swinging weapons. Flails have spiked heavy balls attached to a chain and then to a short pole which the user holds onto to swing.
The Trebuchet catapults had a sling attached to the end of the main swinging arm. This gave additional "whip" effect for throwing the missiles further and faster. See also Catapult history
The rope dart is a small spear/dart attached to a long cord. Can be thrown and swung. See also The rope dart.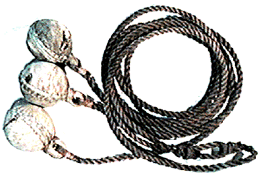 The bola's or bolo's are a hunting tool made of three ropes all attached together at one end and with hard balls at the other. Once thrown the balls entangle themselves around the target. See also bola as a rhythmic instrument
There are of course many other martial arts swinging weapons. Nunchuks, Kusari-fundo, Kusari-gama, Kyoketsu-shogei, Whip chain to name a few
See also Ninja weapons, Lighted Nunchuk