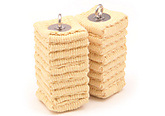 Big, bright, and impressive.
Reviewer: Renfried from United States
If you're looking for big flames and don't want the extreme fire of the death stars, these are the fire head for you. Big bright flames that are not too over the top and not as heavy as the 3.5 monkey fists. Superb quality. Been using these regularly for some time now and aside from the black soot they are still as good as new.