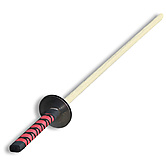 HoP has Outdone itself this time!!
Reviewer: Matthew Mokrzycki from Australia
A fantastically weighted sword, one of the most fantastic fire props I've had the pleasure of using!
The Double spaced tsuba is ingenious, Handle is beautifully made and the 'blade' is extremely well made and will last a very long time!
HoP have truly come up with a marvelous prop, highly recommended to anyone with a martial arts background or anyone who wants alot of flame from a 'different' fire toy.