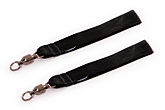 Very Pleased !!
Reviewer: Lou Agostinello from United States
I ordered both the single and double loop pro
series handles and I love them both! Very
Comfortable and Extremely Convenient having the
swivels already attached to the handles. Makes for
much easier assembly of homemade props, or just as
an addition to your favorite set of Fire or Glow
Poi! I highly recommend these to anyone
interested!!
Cheers to Home of Poi for such wonderful products
and very timely delivery. Only took One Week to
receive my goods all the way over here in New
York!!! Amazing!