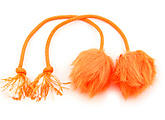 This product is gorgeous!!!!
Reviewer: Cyndi from Australia
I ordered these Tui poi for my 2 1/2 year old because she tries to steal my poi and also swings around 2 dummies on a string in an inwards butterfly!!! Very funny....
These are really cute poi, I am practicing with them myself. I also received COL5 - I am so inspired, and Art of Staff/Sage DVD. Love them all. Very happy. And yes, it's true, delivery is LIGHTNING FAST!