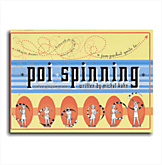 Highly recommended
Reviewer: Solar_bear from United Kingdom
I held back from buying this book at first, as I've always found it difficult to learn moves from photos, diagrams and descriptions alone; it was the glowing reviews I read everywhere else that changed my mind.
And how well-deserved they are. The love and care that has gone into this book is obvious from the start; the author is clearly somebody who not only knows and loves her subject, but truly wants to share her knowledge with the reader and help them develop their skills. The book is not just a list of moves and fancy tricks, it's a very useful guide to creating eye-catching performances, full of energy and flow, even from simple moves.
The text, tips and pictures work together beautifully, to build a mental movie of what should be happening. The diagrams (my usual bugbear) are exemplary, clearly showing stance, poi position / direction AND those vital hand positions.
This may be "the only" book available on Poi, but it will be THE standard work for many years to come.
A must.