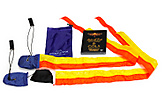 Absolutely wonderful!
Reviewer: Angela Lynx from Australia
The DVD was great. A must have for anyone who either wants to learn poi, or be inspired by twirlers from around the world.
As for the poi, they're just the best! I love them so much. They have a brilliant weight for spinning, you can adjust the cord length, and if you want to spin without the tails, its so simple to remove them. Plus the colour is stunning under UV. I love playing with them and hearing them go through the air. With the tails on there, I find its so much easier learning new moves because you can actually slow down your spinning. You may need to alter your spinning style slightly to accommidate for the tails. Its great having the tails there, you can really see how good your technique is.
I highly recommend these! They're absolutely wonderful!