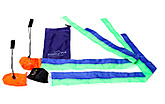 Very nice - tempting to keep them!
Reviewer: Dr Bid from United Kingdom
Bought these as a gift for a new poister but seeing them today makes me tempted to keep them....
The rainbow ones are very bright with velcro tail attachments. The string length is easy to adjust & the webbing finger loops are comfy. In the air, the poi fly cleanly with the super whooshy tail trailing behind. They're easy to keep on the planes so good for 'trainees'. They come in a neat HoP drawstring baggy to keep them looking smart. Another great product, cheers HoP!