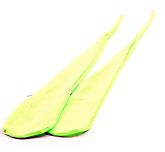 I'm in love!!!
Reviewer: Daphne from Greece
This is the second pair I'm bying. I have a white one and now a hot pink pair :) (and i have bought another one for my younger cousin. He's just beginning to learn :) - the madness is spreading!)
The colour is sooo intense. It looks fantastic under the sun and you can't imagine how beautiful it is under a black light!
I just love the feeling when i play with them. The motion is so smooth and harmonic. And some moves are easier like wraps and hyperloops. If I could play them with fire I would never play with anything else. + they are light and easy to carry around.
Oh and something important: it hurts less!!!