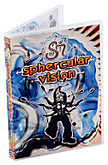 Sphercular Vision DVD
Reviewer: Lazyangel from United Kingdom
I really enjoyed watching this DVD. There's a lot of fantastic spinning in it, and some really interesting work done with different props. The production values for each video a really high, and the style of vids range from simple, spinning style vids, to the use of toys and editing to create really amazing, VJ style images. The amount of difference between videos and top notch spinning means this is a DVD I will want to 'dip into' again and again.