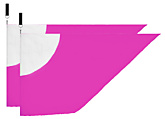 Great in every possible way!!
Reviewer: Marc, Toronto from Canada
OK, I don't know how you got those flags so quick to me. You're at the Antipodes of Canada and yet, they got here in record time. Not to mention that the look of the colours on the Web is nothing compared to how gorgeous these flags are in real life!!! I'm used to twirling regular flags, but not poi flags, so I'm still working on that, but so far so good. I think you guys rock in terms of delivery and quality of your products!! Thanks a million!!