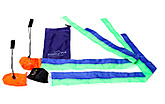 I am in love!
Reviewer: Mhairi Colgate from Canada
Wow! Not only did HOP provide incredible service, and ridiculously fast shipping, but a wicked pair of poi to boot!
I'm just learning, and these poi were perfect (with detatchable tails) to play around and practice with.
HOP- I can't imagine working with anyone else from now on, and I wish all online retail was as great as yours! You've done an amazing job!