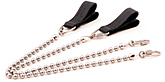 One word, three syllables, "Quality"
Reviewer: Mark Husted from United States
These are unlike the ball chain I have seen on necklaces and things of that sort. On the ball portions of the chain there is no seam. The leather handles are bigger than I expected and am going to experiment some different positions to hold them in, but the workmanship is great. High quality stuff. Thanks guys and gals!!