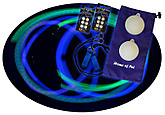 Cant find anything bad to say...
Reviewer: Fiona Todd from United Kingdom
This review is going to be of the same ilk of 90% of the others, but I couldn't actually be happier with them, so thought I would express my joy!! Firstly they arrived really quickly - a total of 9 days before they said they would, which was a very welcome surprise.
Despite reading all the other reviews I was still worried that they were going to be rock solid, but, they are slightly squashy which means those inevitable whacks in the face when learning new moves aren't as sore as normal.
The LEDs are amazing, and the transition is really smooth - I cant wait till this evening when I can see them in their full glory!
2 extra packs of batteries included is always a good thing - don't need to worry about forking out another load of money for them in a months time!
They seem like they can take a bit of a beating too, which is good, as I am thinking I will have a month or so of getting smashed in the back of the head with them when trying out new stuff!
So, yeah, nothing bad to say!!