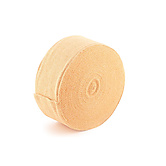 All purpose Kevlar!
Reviewer: Dwarfstar from New Zealand
This Kevlar is fantastic, I love the face that it is versatile because it is thin,
I have made fire torches, fans, staves and poi and the hulahoop is next on the list and the potential goes on because you can fold it in half for smaller sized heads or use it as a 10 inch for staff etc.
Really easy to stitch and very durable assuming you treat your wicks with respect.
Buy this wick, it is great!