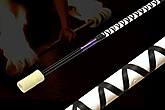 Worth a million
Reviewer: Jefferypaul from Australia
I have bought a few staff from various places, but
never have I received an item as good as this.
The balance is perfect, and the grip is excellent.
Wicks burn really well and all up I am more than
satisfied with this product.