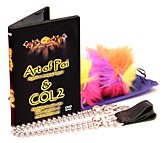 Clear lessons and great poi.
Reviewer: Adelina Holmes from Taiwan
The DVD is great, very straight forward lessons. It ws good for me that it is all-region as I'm watching mine in Taiwan. The poi are perfect, (I have the pink) in that they look cute, won't damage you if you hit yourself, and go with my fluffy pink rave outfits! The balls are easily detacheable, so you can put your glow balls or kevlar or whatever straight on there. Bargain.