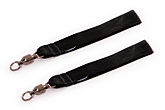 Marvelous control and comfort
Reviewer: Nick Tashiro from United States
I enjoyed my soft nylon handles so much that I hesitated to spring for a pair of these. Was I ever glad I did!
These are excellent, sturdy, and comfy handles that offer a slightly snugger feel than their nylon counterparts. Absolutely ideal for spinning your heavier poi with full confidence.
The swivels are a nice feature, especially for the low, low price.
I never felt 100% happy spinning my flowlights (w/ crystal cases + flowmass) until I slapped a pair of these beauties on 'em. Now they are simply extensions of my arms.
I love these things, and I bet you will too.