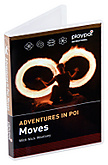 Inspiring. Fun. Essential.
Reviewer: David Gale from Australia
Firstly, this DVD is worth buying simply for the "inspiration" clip at the start. Nick says on his website that it is the best fire dance he has ever caught on film, and in my opinion it may well be the best that ANYBODY has got. This clip really highlights how poi can be used powerfully and expressively, as Nick is truly a master of not just poi moves but also style, dynamics, rhythm, and timing.
As the tutorials are geared towards intermediate and advanced levels you would gain most from this DVD if you can already weave, turn, butterfly etc, although it is worthy inspiration nonetheless and the perfect compliment to "The Scales of Poi."
Also, "Adventures in Poi" is also essential for anybody wanting to teach poi because Nick has a superb teaching style and goes into immense detail on each move.
Plus, by buying this DVD you are supporting Nick and Playpoi, which is a great cause because he is a massive blessing to every poi artist and a genuine person to boot.
Buy this DVD!!!!