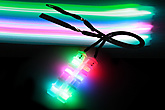 Absolutely Radtastic!
Reviewer: Lucas Burdette from United States
Thank you soo much Home of Poi for the L.E.D Ninja poi! they are astonishing, extremely bright, full of life, and full of flow! Not to mention, i received them less than a week of placing my order!! I've never spun a better pair of poi than these, and i now own 5 sets, all being different kinds, and the ninja poi absolutely blow the others away.