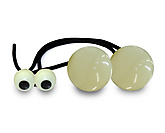 Best Poi I've used (So Far!)
Reviewer: Graham Rogers from United States
I've been spinning for almost 2 years now, but after
my first year I developed a bit of a block. I was
totally unable to do orbitals, no matter how well I
could pull off my hyperloops. With the awesome
balance, the nice swivels, and the Cole Cord
connection I was able to pull off a perfect orbital
straight after getting these poi in the mail. I
haven't event checked out their nocturnal glowing
abilities and I'm already impressed!